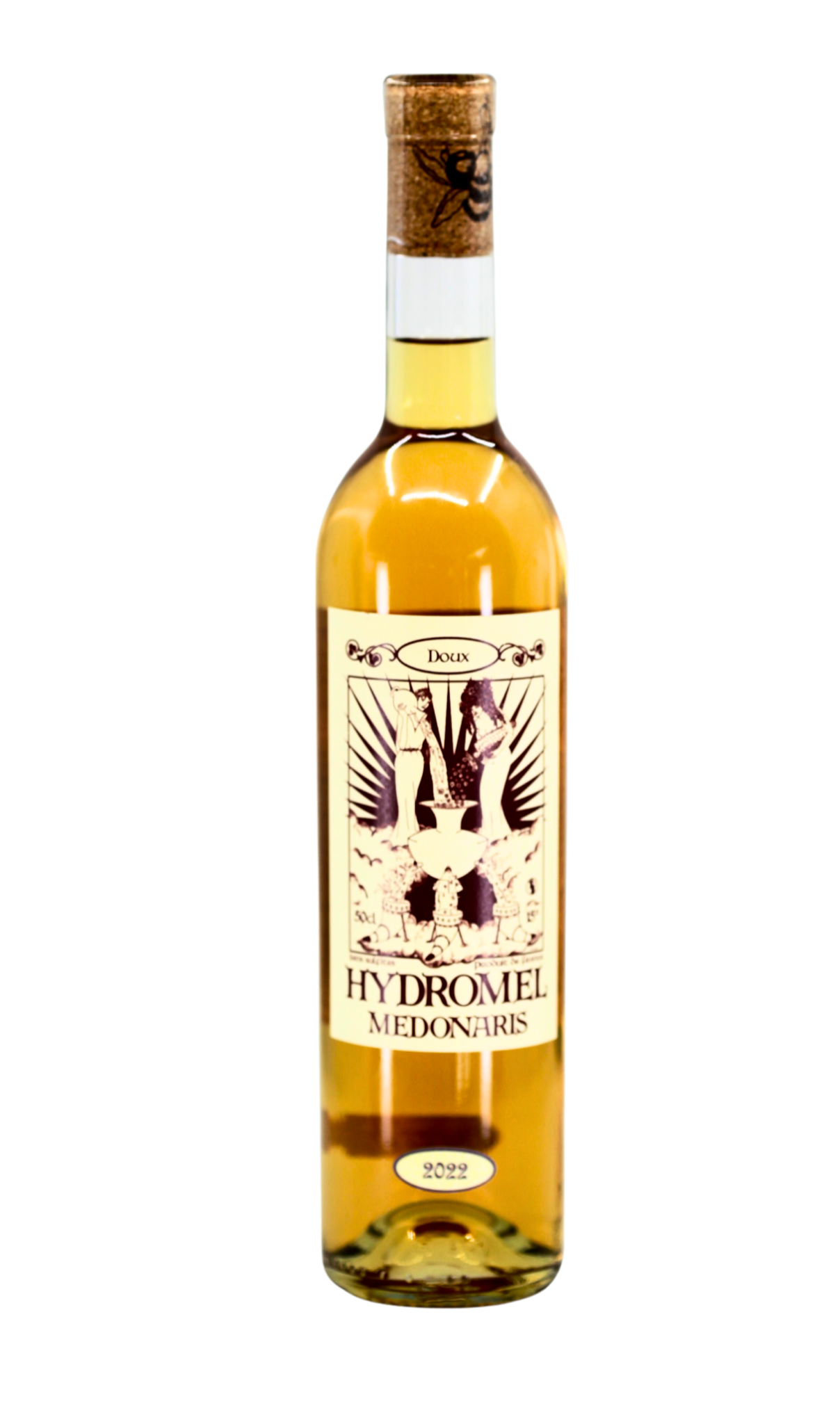 Vieilli en fût de chêne 14mois
Récompensé par 2 médailles: médaille d'argent au concours Général Agricole de Paris 2022 et médaille d'or au concours des Miels de France 2021
Livraison en EXPRESS gratuite à partir de 59€ d'achat
Consommation et conservation de l'hydromel
L'hydromel peut se boire tel quel en apéritif quel que soit le type ou même en digestif.
 Il n'est ni trop sec ni trop sucré. Bien équilibré en bouche il peut convenir à toutes vos envies.

Une fois ouverte, la bouteille d'hydromel se conserve refermée au frigo plusieurs mois (facilement 6 mois).
 
Bouché, il peut se garder une dizaine d'années dans une bonne cave voir plus. Il se bonifie en vieillissant.
L'histoire de cet hydromel
Yolaine Thierry, créatrice de l'entreprise a eu sa première ruche en 1976. 
Dès la première récolte, elle s'essaya à l'hydromel. Augmentant petit à petit son nombre de ruches pour fabriquer davantage d'hydromel. Avec le temps elle affina sa recette.
 
Yolaine commença la commercialisation de son hydromel en 1998 et se démarqua en obtenant plusieurs médailles au Concours Général Agricole de Paris.
 
Elle fit sa place aux cours des années, elle est maintenant reconnue pour son produit.
Yolaine a transmis sa passion à Enora, sa fille qui a repris l'entreprise en 2019.
Elle achète son miel à des apicultrices/apiculteurs locaux principalement et exclusivement français.
MIEL FACTORY
Nos engagements
- Promote the quality, traceability and safeguarding of beekeeping heritages
-. Maintain an ongoing, direct and trusting relationship with "our" beekeepers.
- Optimize our volumes with our historical beekeepers in order to create strong links and give them visibility in terms of qualitative and quantitative development.
- To promote beekeeping that respects bees, the environment and consumers..
- Support the association terre d'abeilles, which acts on a national, European and international level for the protection of bees and other wild pollinating insects.
Read more
Secured payments
American Express, Visa, Mastercard, Paypal.
Free delivery from 49 € purchase !
Get express delivery by Chronopost, free of charge (France)!
Free Click and Collect
Make your purchases online and we will prepare your order at the boutique. All you have to do is pick it up!
Contact-us
Any questions? Contact us at any time! contact@miel-factory.com or 0144939272