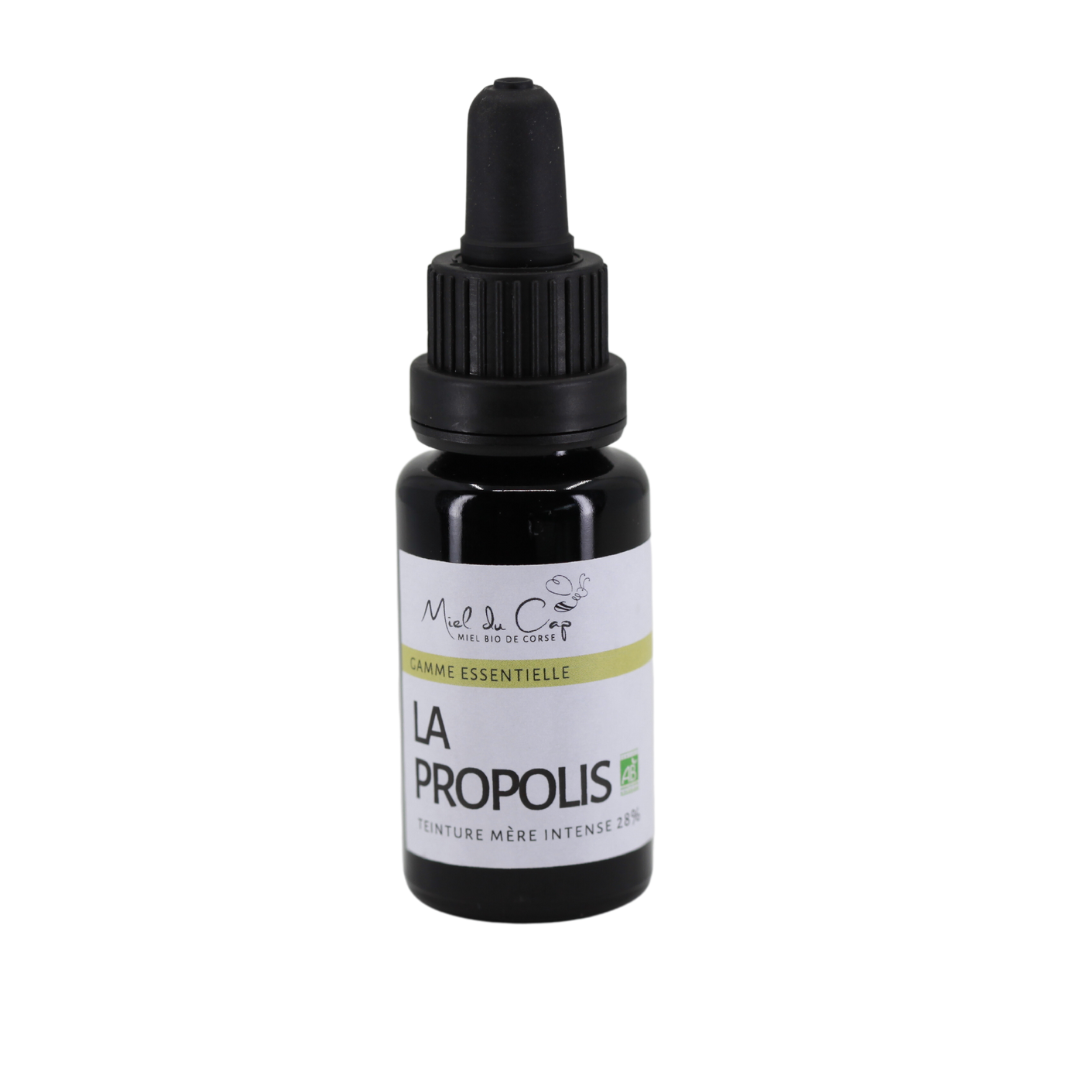 Teinture mère de propolis Corse BIO
Flacon brun de 15ml avec pipette
Récolté et produite par une apicultrice du Cap Corse
Livraison en EXPRESS gratuite à partir de 59€ d'achat
Teinture mère de propolis Corse BIO
Un antibiotique naturel
Excellent immunostimulant, elle se révèle un antibiotique et un cicatrisant très actifs réputés depuis l'Antiquité. La propolis est un produit naturel connu pour ses propriétés thérapeutiques remarquables. Utilisée pour le traitement des problèmes de la peau, elle est aussi efficace pour soigner des affections microbiennes ou virales. Elle est donc très utile en cas de grippe, de sinusite, d'herpès buccal et de gingivite ou pour contrer la mauvaise haleine.
Teinture mère intense
Conseils d'utilisation :

- En interne : 5 gouttes, maximum 5 fois par jour, selon les besoins, pures ou diluées dans une cuillère à café de miel. 10 gouttes dans un fond de verre d'eau en gargarisme pour soulager une angine, une gingivite, une cystite... Ou 20 gouttes dans une boisson à boire tout au long de la journée. À utiliser aussi bien en préventif (cure de 3 semaines) comme en curatif.

- En externe : 1 goutte par jour à appliquer avec une compresse sur vos verrues, mycoses, boutons, herpès... Elle est également très cicatrisante.
MIEL FACTORY
Nos engagements
- Promote the quality, traceability and safeguarding of beekeeping heritages
-. Maintain an ongoing, direct and trusting relationship with "our" beekeepers.
- Optimize our volumes with our historical beekeepers in order to create strong links and give them visibility in terms of qualitative and quantitative development.
- To promote beekeeping that respects bees, the environment and consumers..
- Support the association terre d'abeilles, which acts on a national, European and international level for the protection of bees and other wild pollinating insects.
Read more
Secured payments
American Express, Visa, Mastercard, Paypal.
Free delivery from 49 € purchase !
Get express delivery by Chronopost, free of charge (France)!
Free Click and Collect
Make your purchases online and we will prepare your order at the boutique. All you have to do is pick it up!
Contact-us
Any questions? Contact us at any time! contact@miel-factory.com or 0144939272