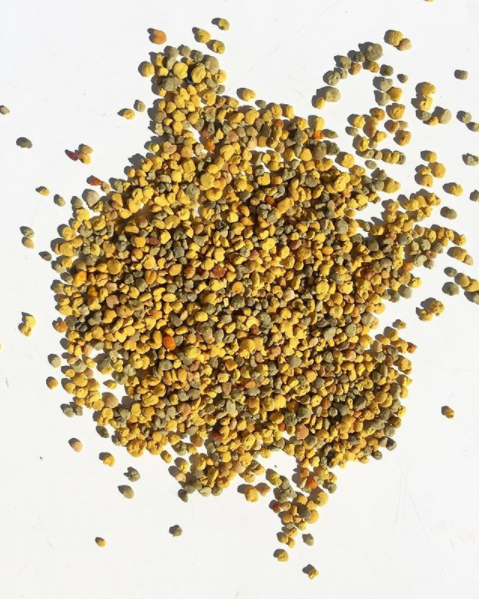 Harvested in France, Marne, Vitry en Perthois
Composition, Willows, Fruit trees, Alfalfa
Helps make you feel more energetic
Livraison gratuite à partir de 59€ d'achat
The wonderful benefits of pollen
It is particularly recommended for tired and weakened people to consume pollen to help the body recover. Indeed, pollen acts effectively against physical and intellectual fatigue by increasing the performance of the body. Pollen is a euphoric, fortifying and restorative food that plays a big role in our health without having side effects.
All pollen products
How is pollen made?
Pollen consists of small grains or seeds. It is harvested by bees from the stamens which are the male reproductive organs of a flower. When the bee takes off with the pollen in its basket, seeds can escape and land on the female reproductive organs (pistils) of another flower. This is the phenomenon of pollination by bees.
Other hive products
MIEL FACTORY
Nos engagements
- Promote the quality, traceability and safeguarding of beekeeping heritages
-. Maintain an ongoing, direct and trusting relationship with "our" beekeepers.
- Optimize our volumes with our historical beekeepers in order to create strong links and give them visibility in terms of qualitative and quantitative development.
- To promote beekeeping that respects bees, the environment and consumers..
- Support the association terre d'abeilles, which acts on a national, European and international level for the protection of bees and other wild pollinating insects.
Read more
Secured payments
American Express, Visa, Mastercard, Paypal.
Free delivery from 49 € purchase !
Get express delivery by Chronopost, free of charge (France)!
Free Click and Collect
Make your purchases online and we will prepare your order at the boutique. All you have to do is pick it up!
Contact-us
Any questions? Contact us at any time! contact@miel-factory.com or 0144939272